If you are looking for a way to protect your home from a power outage due to a winter storm or any other unexpected cause, a generator is the perfect solution. We choose to install Kohler generators due to their quality and warranty on their products. If you are interested in learning more or receiving a quote on a generator call our office (978) 256-5976.
Kohler
Eric C. Foster Plumbing, Heating, & Cooling is a registered licensed Kohler dealer and our technicians are trained to both install and service your Kohler generator as authorized Kohler service technicians.
A standby generator kicks on when there is a power outage to keep the power on. The generator is installed outside the home similar to an air-conditioning unit and will kick on automatically even if you are away from home at the time of the outage.
To learn more about Kohler generators visit – www.kohlerpower.com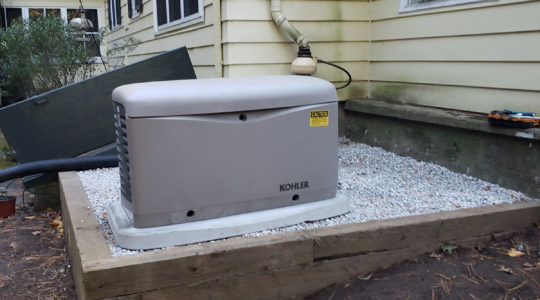 Maintenance
The manufacturer recommendation on having your Kohler generator serviced is every 2 years or every 200 hours of use. This will ensure your system is running efficiently and will be ready to do its job in case of an emergency. Call us today (978) 256-5976 if your system is due for a service.